Spotlight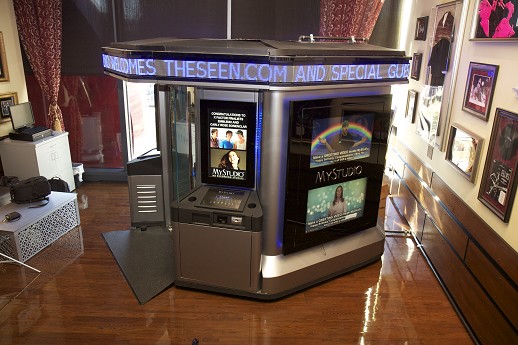 MyStudio Booth welcomes theSEEN.com in Las Vegas!


FOR IMMEDIATE RELEASE: MAY 30, 2013
Studio One Media, Inc, a leading edge entertainment & technology company, today announced that it has finalized a partnership deal with a major online Talent Website company and the Worlds Most Downloaded Woman Internet, Cindy Margolis in an effort to bring expanded and exclusive career opportunities to talent of all ages and categories.
Margolis's privately held company, theSEEN.com set out a year ago to level the playing field for all talent by providing them the tools and the opportunities to showcase and advance their personal entertainment goals with some hands-on support from her and others who had gone before them. As the Most Downloaded Woman on the Internet and a self-made internet marketing icon, Margolis has much to share with up and coming talent and has vowed to gather and offer as many opportunities as possible in an effort to make it easier for talent to be SEEN, HEARD and DISCOVERED.
Studio One's self-contained, state-of-the-art, audio/video recording studios is a huge part of that effort, offering true professional recording studio-quality audio and HD broadcast-quality video with an ease, economy and convenience available nowhere else. MyStudio eliminates the high cost, technological and logistical barriers inherent in the creation of high-quality online video content, thereby opening up a new world of opportunities for the creation of user-generated video content by amateurs and professionals alike.
Through the combined resources and tools offered on both the MyStudio.net and theSEEN.com websites, talent can create videos for music, modeling, comedy, acting or any other unique talent they might possess and immediately upload those videos to their own theSEEN.com showcase or domain providing a One you – One place – Online home for everything about you! Your images, your videos, your bio, all your career and social media accounts and connections – interactive with family, friends, fans and industry - in an easy to find "yourname.com" enviroment.
Additionally, the MyStudio and theSEEN.com partnership will provide talent with unprecedented opportunities to participate in television shows, contests, events and career support, enhancement and sponsored activities aimed at exposure, marketing and promoting their individual brand.
Studio One Media has partnered in the past with some of the biggest hitters in the entertainment business. Having recently hosted the auditions for Tyra Bank's hit reality series, "America's Next Top Model" and discovering (through MyStudio booth auditions), two of "The X-Factor" season two semi-finalists, Carly Rose Soneclar and Emblem 3. They also have plans to launch a new 27' Mobile Studio Entertainment Center will literally bring the studio to you!
Talent can look forward to several MyStudio/theSEEN sponsored events beginning late fall including
"A walk on the Red Carpet" with Cindy Margolis
"Crossroads of the World Hollywood Launch Party"
"Nashville Kats Demo Madness" and;
"The Daytona Beach Swimwear Competition"
For additional information about the value this partnership brings to aspiring talent, please view the MyStudio.net video below and then click on the "My Studio Sessons" link on the left to see how your Mystudio demo reels can be loaded directly into your theSEEN.com showcase.